Welcome to Porta-Sink! Porta-Sink specializes in manufacturing portable sinks, portable beverage bars, portable sushi bars and much more. We have customer installations from all over the United States, including restaurants and events to everyday applications such as washing hands / dishes, prepping food, or serving drinks, our portable devices are designed to meet your needs. 
Portable Sink & Storage
Paul & Cindy, New Mexico
Our customer ordered a custom Portable Sink & Storage compartment for their backyard. This portable sink makes it easy to wash your hands from a variety of locations and is accompanied with shelving for storing what you may need, all while looking amazing too! 
Browse our inventory for Portable Bars, Sinks and much more. Shop Now!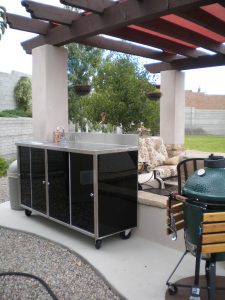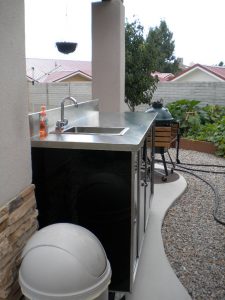 Custom Portable Sinks & Bars
We specialize in manufacturing portable equipment for your restaurant, kiosk, or small business. Working with stainless steel on a daily basis, our team has over 20 years in experience & knowledge with this Stainless Steel Metals. Over the years we have manufactured custom portable sinks and portable bars for our customers and their specific needs. Some of these custom portable bars include a beverage bar made with 2 times as long and storage space, a custom designed portable sushi bar for customers to view the sushi display case while keeping more serving space, and the portable chopping block for a preparation station.

U.S. Ice Machine Company
Porta-Sink is a part of U.S. Ice Machine Mfg Co, a United States Manufacturing Company specialized in manufacturing stainless steel equipment for restaurants, kiosks, and other companies alike.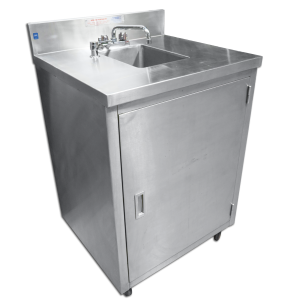 Contact Us!
Send us a message! Have questions, want to learn more, feel free to send us a message through our contact form. One of our sales associates will reply or get back to your message promptly.