Portable Sinks & Beverage Bars

Porta-1 Hand Sink
Our Best Hand Sink!
Constructed of 304 Stainless Steel.
No problem with any health inspector!

Porta-3 Sink
Our Best 3 Compartment Sink!
Compact design allows for more storage hassle free.

Porta-4 Sink
Our Best 4 Compartment Sink!
Stay Clean, Organized and most importantly, Compliant.

---


Portable S/S Beverage Bar
Perfect Mobile Solution for Serving Drinks! Swimming Pool, Living Room, Restaurant, Kiosk, Festivals, Sport Events...

Portable Beverage Bar
Perfect Mobile Solution for Serving Drinks! A lightweight version of our portable bar, with composite panels.

Portable Espresso Bar
Drinking Coffee is an $18 Billion Business in the United States every year!!! Go Portable and serve coffee on the go!

---


Portable Sushi Bar 1.0
This One of a Kind Portable Sushi Bar has Everything a Sushi Chef would want!

Portable Sushi Bar 2.0
This Masterpiece is Designed for Quality Food Serving with all the Features of our Porta-Sinks
Portable Sushi Bar 4.0
A New Arrival!
Check out the latest setup in our Selection!

---
Welcome to Porta-Sink.com
Our Company - U.S. Ice Machine Mfg - specializes in providing Portable Sink for a wide range of uses. From parties and banquets to everyday applications like hand washing and dishwashing, our Portable Sinks are designed to meet all your needs. We offer a wide selection of sinks from compact hand sinks to multi-compartment utility sinks for cleaning dishes, utensils and more. Additionally, our Portable Beverage Bar and Espresso Bar make it easy to serve your favorite drinks at any event. We also offer Portable Sushi Bars that are sure to impress your guests and even your chef!

Each sink features a heavy gauge 304 stainless steel body, sliding doors, cabinets, and sides made out of multicolored Acrylic Panels or multicolored Aluminum Composite Panels. All materials are robust and sturdy enough to endure all weather conditions.
Portable Sinks are ideal for concession trailer, food trucks, food cart, high schools, summer camps, outdoor parties, swimming pool, festivals, fitness center, tattoo saloons, medical care, dentist office, public parking, banquets, kiosks, mall and many other functions. Our Portable Sinks feature hot and cold running water with 110VAC power supply option. With water storage and drainage tanks that can hold up to 5 gallons of fresh water and 7 gallons of waste water, our sinks make cleaning, sanitizing and rinsing super easy...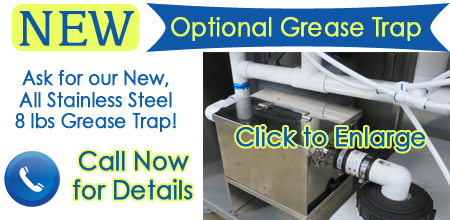 Watch our videos on Youtube
TESTIMONIAL NEWS FEED
Customer Reviews on PORTABLE SINKS
---
US Ice Machine
Manufacturing Company
650 NW 123rd ST, Miami, FL 33168
Paul & Cindy, New Mexico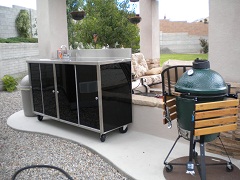 CLICK ON IMAGE FOR MORE PHOTOS
Visit Our BLOG
Privacy Policy:
We are committed to protecting your privacy. The information you enter on our site is held in confidence between you and us.
We do not sell, trade, or rent your personal information to others.